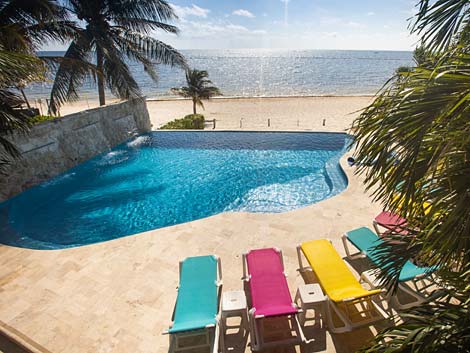 Casa del Sol
Beachfront 5 Bedroom Home; Huge Private Infinity Pool; Rooftop Terrace
This magnificent property is waiting just for you! Take a dip in the huge private infinity pool or just relax on the massive pool deck with your favorite beverage as you watch the cruise ships go by. The pool and deck are unsurpassed in Puerto Morelos. Lit at night by a revolving color wheel and three wall rainfalls, this infinity pool is breathtaking! You may decide to sunbathe on the roof top deck that has the best views in town.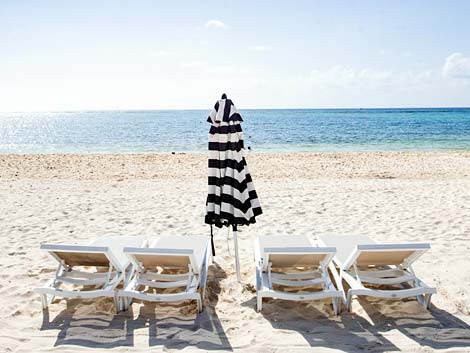 Vive El Sueño
3+1 BR/4.5BA Resort Style Beachfront Condo, Quiet Beach, Massive Pool, & Private Plunge Pool... Minutes from Downtown Playa
Where can you go in the Riviera Maya that offers you absolutely everything? A bustling and lively night life, unique shopping, entertainment, a multitude of restaurants, and proximity to history and local culture, all while staying on the most beautiful white, sandy beach? The answer is Playa del Carmen in the Riviera Maya!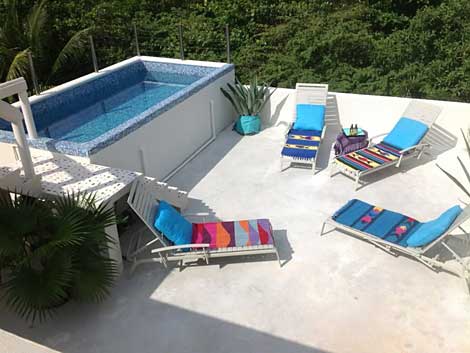 Casa Perros Afortunados
(House of the Lucky Dogs)
3BR/3BA Vacation Home; Rooftop Terrace; Minutes from Beach
There's nothing quite like watching the sunrise over the ocean. Except perhaps, after a long day at the beach, watching the sunset over the jungle. From the rooftop terrace of House of the Lucky Dogs, you can do both, AND you can also sunbathe with privacy, & cool down in the rooftop pool. With a 4 min walk to both the beach & the town square, 3 large bedrooms - all king-sized beds, & ensuite/adjacent bathrooms - a media room, sitting area, dining room, & garden, you'll know why we're Lucky!